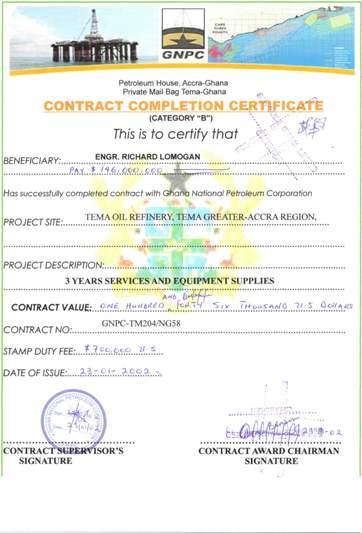 Contract Payment
This was the second time I scambaited this piece of trash named Sharon Lomogan. The first one was kind of funny - On Your Back for the Future! - where I told her to earn money by working on her back for a few weeks, assuming she could keep the flies off of her.

Now, Sharon is back with a vengeance (and 120 million dollars). She is from Cape Verde Island, whose Gross National Product is a little over 400 million, and somehow her father acquired wealth equal to about one-quarter of the entire nation! That's sum dang gone good investments! Her father's whole "Contract" was for $146,000,000, but he was already paid 26 million dollars (even though she seems to be broke...). Too much wine, women, and music, I guess...Or more like pond water, goats, and ear-piercing screams.

One of my trophies from this idiot is the "Contract Payment Certificate" for 146 million dollars where the moron accidently writes $146,000 instead of $146,000,000 (next to where it says "Contract Value"). When I asked about it, she said that amount was the tax on the contract sum, although it says "Contract Value" and no where does it say anything about tax on the form.

She then replies,
That is a security document and should not be easily interpreted by ordinary reading understanding.
Sharon

Ummm, ok? I guess it was not meant to be understood by ordinary reading???