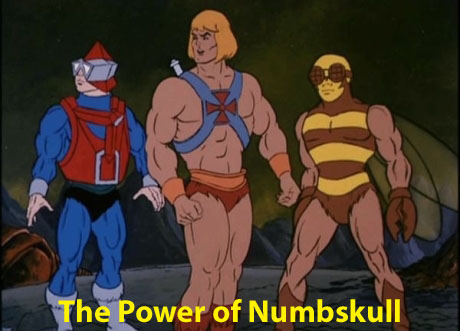 Form Letter #1
The late Mr. Robert F. Simmons has an account with a bank in your country and has me listed as the beneficiary, he was in your country for approx. 30 years, and He is a citizen of your country by migration. He was related to me. Blah, blah, blah
Signed, Thomas Simmons
Form Letter #2
The late Mr. Robert F. Payne has an account with a bank in your country and has me listed as the beneficiary, he was in your country for approx. 30 years, and He is a citizen of your country by migration. He was related to me. Blah, blah, blah
Signed, Thomas Payne
This moron changed the name of the deceased to match mine - AFTER he told me the dead client's name!
The Power of Numbskull

This idiot is no He-Man; more like a She-Male...
This is a Next-of-Kin Scam where they don't tell you the client's last name until they find out yours, and then give the client the same last name as you, therefore that is how they found you and why they need you.
I like to frustrate the scammer (Kelvin Grant) by using an email account that doesn't reveal my last name (Thomas.s@xxxxxx.com), then to press the scammer as to what the dead client's name is.
After 4 or 5 emails back and forth, with the idiot getting frustrated, he then sends me the form letter to send to the lawyer (Form Letter #1). He thinks my last name is Simmons and I have no idea where he got that from. I think he is getting his scams mixed up!
Of course, I ask why he thinks my last name is Simmons, that I never told him that. He apologizes profusely for the mixup and says that the names are close enough to work (he may just think he spelled "Simmons" wrong). I ask him what is similar about my last name and Simmons.
After 2 or 3 more emails, he finally demands my last name - at this point, I figure what can it hurt because he already told me his dead client's last name, so I tell him my name is Thomas S. Payne. I say, "So you can see, Payne is nothing like Simmons, so I don't see how I can pose as the next of kin."
This is the Beautiful Part - he then sends me Form Letter #2 to send to the lawyer. He changes the dead client's name to match mine!
This was my reply - "Are you stupid? How can you change your client's name? All his records, the bank account, everything will be in his real name - not the name you just made up, you freaking moron!"
He wrote back that he knew what he was doing and not to insult him. I replied, "Either you are the dumbest scammer on Earth, or if this is real, you are the dumbest banker on Earth! Which is it?"