Dear Mr. James,

P.S. I hope I didn't come across as being insulting – it's just that the emails were really hard to read and understand with all of the mistakes.

Dear James,

Thanks for your message, your suggestions, correction and remarks are all noted. Regarding the genuine and legitimacy of the proposal, I am giving you my assurance and you have my words. I am attaching my international passport to this message with Excerpt from the official website of the bank where you shall find my position and personality in the bank's hierarchy.

http://www.lloydsbankinggroup.com/about_us/directors/executive_directors.asp#timtookey

Please, at the moment the funds records are in the data system and I will send the deposit documents to you once both of us agree to a business understanding.

Also, understand that this proposal is highly confidential. I know you are a business professional as such I believe you understand the procedures to businesses such as my proposal. With your cooperation and support I promise you that I will use my position to come to a successful conclusion of the transaction with you.

I believe my explanations are quiet understood; I will need the following information's about you to start the process of applying and securing the payment release approvals from the various departments of the bank.

1) Your Full Name
2) Your full Residential Address
3) Your Private Tel/Fax numbers
4} Your Country of Origin
5} Your Age
6} Your Occupation

Like I proposed earlier we will share the benefits after a successful conclusion of the transaction on a 60% for me and 40% for you, let me know if you have anything against this sharing method.

I am waiting for your response.

Sincerely,
Tim Tookey
Group Finance Director
Lloyds Banking Group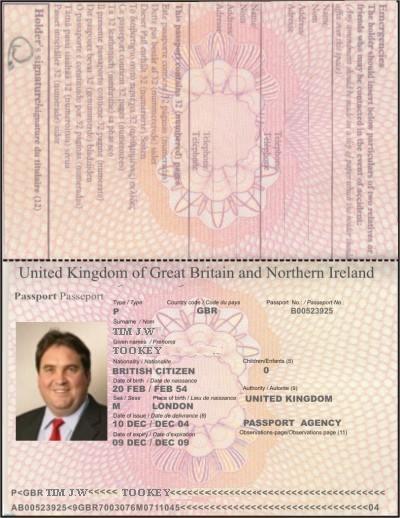 Yes, Lloyd's is a real bank and he uses a name that he finds the Executives Page on their website. I requested an ID to see if he would send me an ID with the exact same picture as from his profile on the website, and amazingly enough – he didn't! I was shocked! I've had these morons send me a Passport, Driver's License, as well as an online profile all using the same picture – so obvious that it is fake! I would say something innocently like, "It is amazing how you managed to strike the same pose in your Passport as in your Driver's License and your profile on the website. You are also wearing the exact same clothes… weird, huh?".