Please explain to me why when you click on the picture, it takes you to a site where it describes everyone in the picture and says that it is a Foundation that is receiving money from a bank (Union Bank of California).

Here is the article – I see in the names, there is no Harsh Roongta…

Care to explain that? Click on the picture you sent me and see for yourself.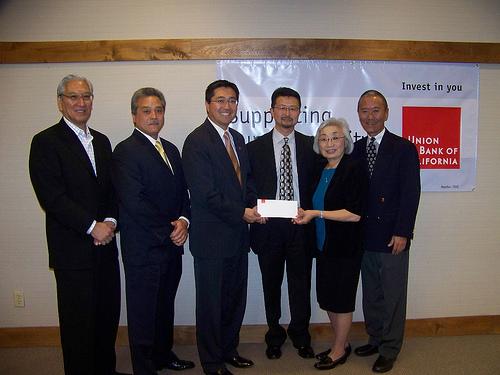 CAPTION: San Francisco Japantown Foundation board members accept $10,000 donation from Union Bank of California. From left to right: Allen Okamoto, Rich Hashimoto, George Tanaka of Union Bank, Jerry Ono of Union Bank, Sandy Mori and Bob Hamaguchi.

Union Bank of California on March 13, 2008, presented the San Francisco Japantown Foundation with a $10,000 donation to support the organization's mission. George Tanaka, Union Bank of California vice president and diverse market's administration manager, presented the check to the Foundation on behalf of the bank.

"Union Bank has been part of Japantown for many years and our donation represents our continued investment in, and commitment to, the community," said Tanaka. "We would not be able to be a part of such a great endeavor without the longstanding relationships cultivated at the local branch level by Japantown branch manager Keiji Miyoshi and all of our branch staff."

"We're very grateful to Union Bank for this significant donation and thank Mr. Tanaka and the bank for believing in our mission to support nonprofits that promote and serve San Francisco's Japantown," said board member Sandy Mori, who accepted the donation on behalf of the Foundation. "Union Bank's generosity will contribute to a brighter future for the Japantown community."

See sfjapantownfoundation.org for more information.

MEDIA: Text file of complete press release available here:
sfjapantownfoundation.org/files/sfjapantownfoundation_uni...

(This was the text of the article of the website after you click on the picture. Notice it names all of the people in the picture, and there is no Harsh Roontga).